If you or someone you love has mobility issues and struggles to navigate stairs at home, a stair lift from Liberty Home Solutions offers a safe, convenient, and cost-effective solution. We offer a wide range of options to meet the unique needs of our customers.
Our stairlifts are designed for ease of use, with smooth and quiet operation, comfortable seating, and intuitive controls. In addition, we only offer products from trusted manufacturers with a proven track record of reliability and safety.
Our team of fully trained and insured staff provide professional installation, maintenance, and repair services, ensuring your stairlift is always running smoothly. Above all, whether you need a lift for a single flight of stairs or a curved lift for a multi-level home, we have the expertise and experience to help you find the right solution.
Choosing a stair lift is an important decision, and we are here to assist you every step of the way. Contact us today to schedule a free consultation and learn more about our lift options.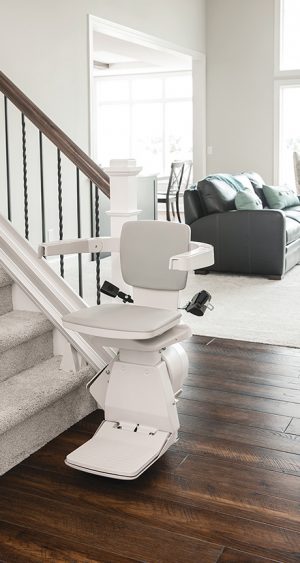 As an authorized Bruno dealer, we offer top-rated stairlifts made in the USA. Additionally, Bruno stairlifts are known for their superior quality, delivering optimal performance, comfort, and reliability.
Our team can assist you in finding the right solution, whether you need a straight or curved stairlift.